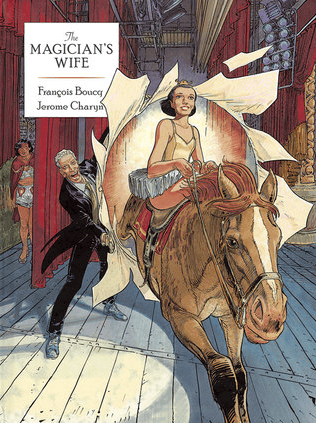 THE MAGICIAN'S WIFE by Jerome Charyn & François Boucq
"A dark, menacingly brilliant tale, tinged with the erotic . . . a kind of film noir between covers directed by Fellini." ― LA Times
"Brilliant, funny, hallucinatory." ― Joyce Carol Oates
"More engaging than 96 percent of the fiction published in France or North America today." ― Artform
"The story and the art are both eerie and erotic." ― Publishers Weekly
Spanning multiple decades and continents, this phantasmagorical epic is the result of a unique collaboration between an award-winning American author and the famous French illustrator of Alexandro Jodorowsky's Bouncer series. Writer Jerome Charyn and artist François Boucq combine their talents to recount a surrealistic tale about the wife of a philandering magician and her struggles with terrifying demons, both real and imaginary.
Originally published as La Femme du magicien, The Magician's Wife was awarded the 1986 Prix Alfred (Angoulême) and the Grand Prix (Sierre). The English-language version has been out of print for three decades, during which time the graphic novel has developed a deep cult following ― this new edition promises to mesmerize a new generation of readers. Suggested for mature readers.