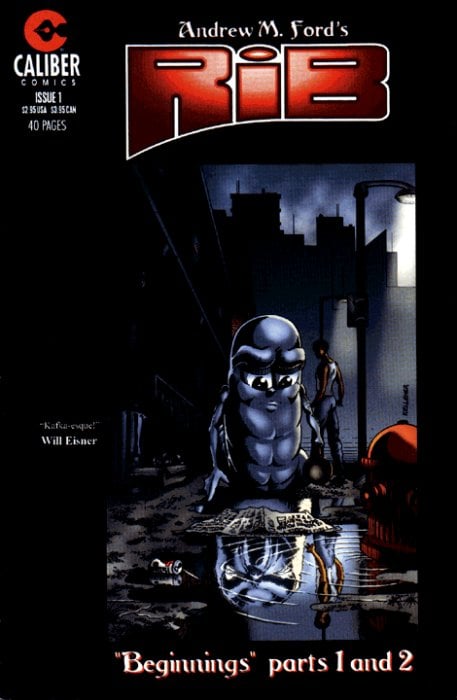 Drew Ford says...
I created RIB as an underground mini-comic in the early 1990's, but later developed it into a full size comic in 1996 with the immensely talented illustrator Michael Kelleher. RIB was self-published at one point, and later published by Caliber Comics. It was an early effort, and is surely a bit rough around the edges, but I am very proud to have created this comic book. I recently unearthed a small box of these books, and thought someone might actually be willing to give it a read (if priced reasonably enough, that is). So here they are, all five issues respectfully submitted for your perusal.
Here is some of the press RIB received at the time of it's initial publication...
"RIB has echoes of Kafka, echoes of MAUS, echoes of allegory, echoes of a lot of different types of literature about alienation and discrimination, but it's also managed to find its own voice amongst its influences. RIB is the story of a race of worm-like beings that live amongst us. They've been exploited much like other minorities in US history, such as Indians, African Americans, and Asians. Some try to fit in with a dominant culture that dislikes and discriminate against them. Others of the race are radical isolationists with a dream (as well as a somewhat obsessed point of view). RIB is a young worm-man who is trying to find his way in this world, in a journey of discovery that shows him that not all humans are evil and awful, but many are. To call this book ambitious is an understatement. Ford is working with some very big concepts here. While he doesn't always succeed, he has many more hits than misses. You have to admire the literary bravery of such a work."
-SEQUENTIAL TART
------------------------------------
"Like Art Spiegelman's classic holocaust MAUS, RIB tackles serious social issues with allegorical references to discrimination. Ford presents a powerhouse of a story that grabs you into this so-called fantasy world that is so obviously grounded in reality-based themes."
-WIZARD
------------------------------------
"RIB is an ambitious tale of prejudice. His story just captures your attention."
-COMICS BUYER'S GUIDE
------------------------------------
"Ford does a nice job of translating the woes of the real world into the fantasy world of RIB. His parallel of the worms and America's minorities, while intentional, is genius. It makes the reader realize how silly yet prevalent prejudice really is."
-COMBO
------------------------------------
"Resonant with echoes of historical oppression and references to every-day questions of morality, it's no wonder RIB has been mentioned in the same breath as Art Spiegelman's MAUS."
-OVERSTREET'S FAN
And here is what some retailers had the say about RIB...
"Employing realistically rendered humans and their world while adding the cartoonish worm, RIB achieves the same sort of effect as Spiegelman's Maus. Ford makes excellent use of the themes of alienation. Recommended for anyone who likes a good, character-driven story."
-STARCLIPPER BOOKS, St. Louis, MO
------------------------------------
"Ford and Kelleher tell the story of a worm trying to learn about people. As he carries out his quest, you'll learn a little bit more about people, too. Ford avoids becoming maudlin or preachy, which is a major asset -- far too many writers would have found the temptation irresistible."
-DR. NO'S COMICS, Marietta, GA
------------------------------------
"How to describe this? Let's take Bone and mix it with Alien Nation and Ralph Ellison's Invisible Man. Too much? Pick up the first issue of this story anyway, though -- it's offbeat, fascinating, and human in every sense of the word."
-ALL ABOUT BOOKS AND COMICS, Phoenix, AZ
------------------------------------
"If you missed my plug for RIB when it was self-published, now's the time to check out this endearing worm-laden title. This is an A+ all the way!"
-CLAUDE'S COMICS, Hatboro, PA
------------------------------------
"This story has a nice, quiet pace and isn't afraid to take it's time in getting to where it wants to be. This is to Ford's credit, since making RIB face undiluted bigotry from the moment he first appears on the page would have diminished the quality of he storytelling."
-NEWBURY COMICS, Boston, MA