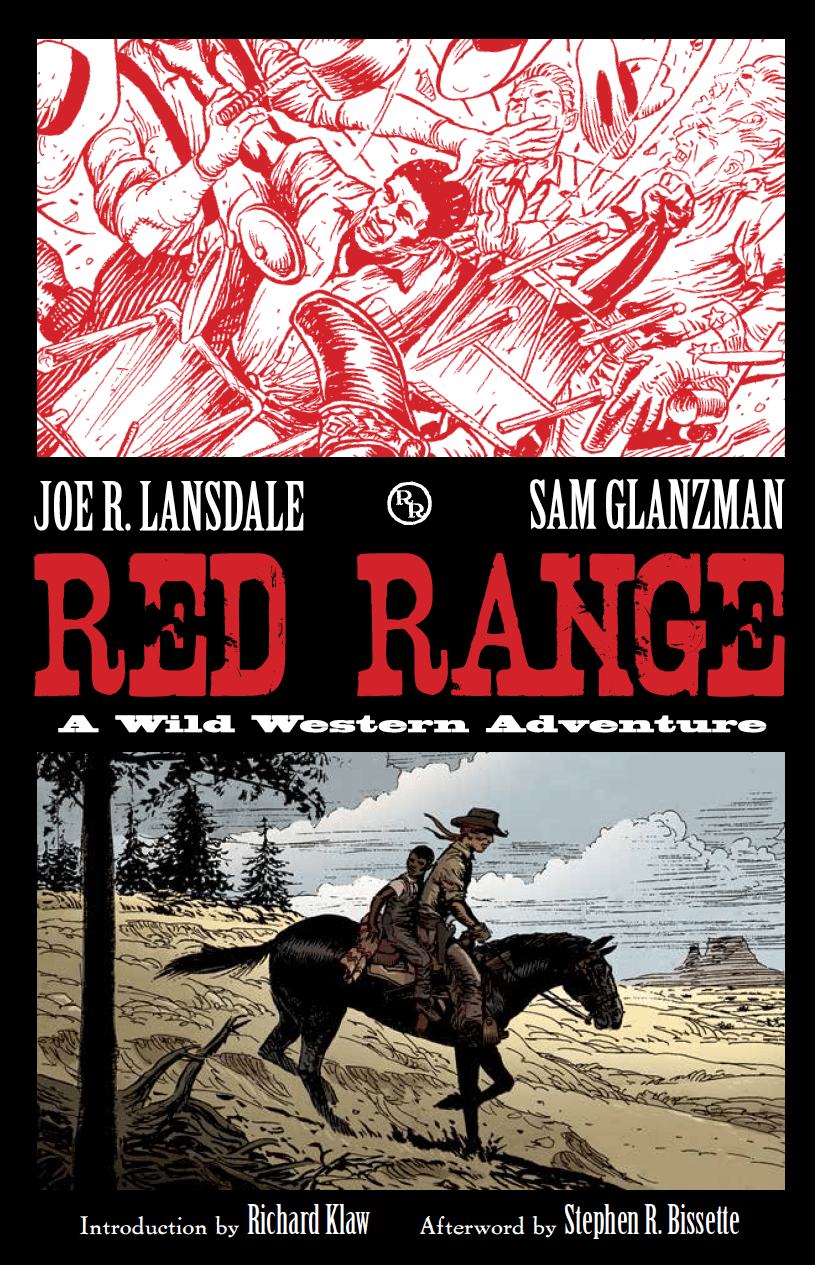 RED RANGE: A Wild Western Adventure
In a tale of hope set amidst the hyper violence of America's 19th century, this new edition tells the tale of Red Mask, a tough as nails vigilante who rides to fight the tragic racism of a Klan-dominated Texas.
Written by multiple Bram Stoker Award winner JOE R. LANSDALE and illustrated by Golden Age comic book master and WWII veteran, SAM J. GLANZMAN, this volume presents the classic graphic novel in color for the first time, and includes an Introduction by Mojo Press' RICHARD KLAW and Afterword by STEPHEN R. BISSETTE. As a bonus, this book contains a little-seen story by Glanzman, "I Could Eat a Horse!" Red Range has been called "an edgy tale like no other" (Fantastic Fiction) and "an outrageous story, on par with Quentin Tarantino at his best" (Comics Grinder), and the saga is replete with a monstrous, genre-bending story twist that is nothing less than mind-blowing. Shamefully ignored when originally released in 1999, the time is finally right for Lansdale & Glanzman's Red Range, a tale of savage vengeance, stone cold justice, and beastly & bloody comeuppance!
"Red Range is an oddball graphic novel. It's part heroic adventure tale, part horror story, part lost world yarn. Ultimately, though, this book is a unique and delightful piece of comic art." —COMICS BULLETIN
New Introduction by Richard Klaw
New Afterword by Stephen R. Bissette
New Additional Material by Jon B. Cooke & Stephen R. Bissette
6 5/8 x 10 1/4
Full Color
112 pages
Hardcover
WARNING: This graphic novel does contain some nudity, graphic violence, adult language, and adult situations, and is definitely NOT for kids.
AVAILABLE NOW! ORDER TODAY!