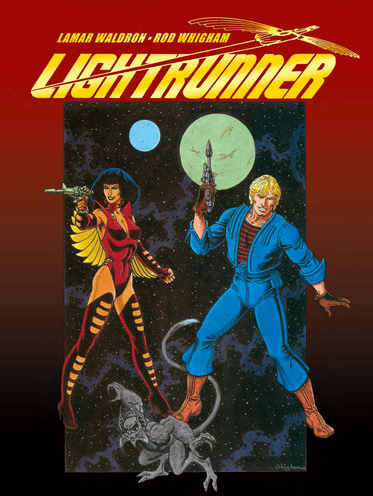 "It looks — and reads — GREAT! 3-D characters rather than cardboard figures. A fine job." — Robert Bloch.
"A fascinating job! I can only admire ... the work, the copy and illustrations." ― Ray Bradbury.
"Very attractive. Both the art and the story struck me as definitely high level. I enjoyed it." — Roger Zelazny.
Action and adventure await in this rollicking tale of a universe teetering on the brink of intergalactic war. Young Burne Garrett has failed his military training but gets a shot at redemption when he uncovers a plot of cosmic proportions. Unfortunately, he's been framed and is being hunted down by a legendary hero who happens to be his own deeply disappointed father. Can Garrett and his new friends aboard the Lightrunner prove their innocence and reveal the true culprits?
Co-written by Lamar Waldron — a popular writer for such publishers as Fictioneer Books, Disney, and Dark Horse Comics — and illustrator Rod Whigham — a celebrated veteran of both DC and Marvel comics — this explosive space opera offers a richly visualized tale of interplanetary intrigue.