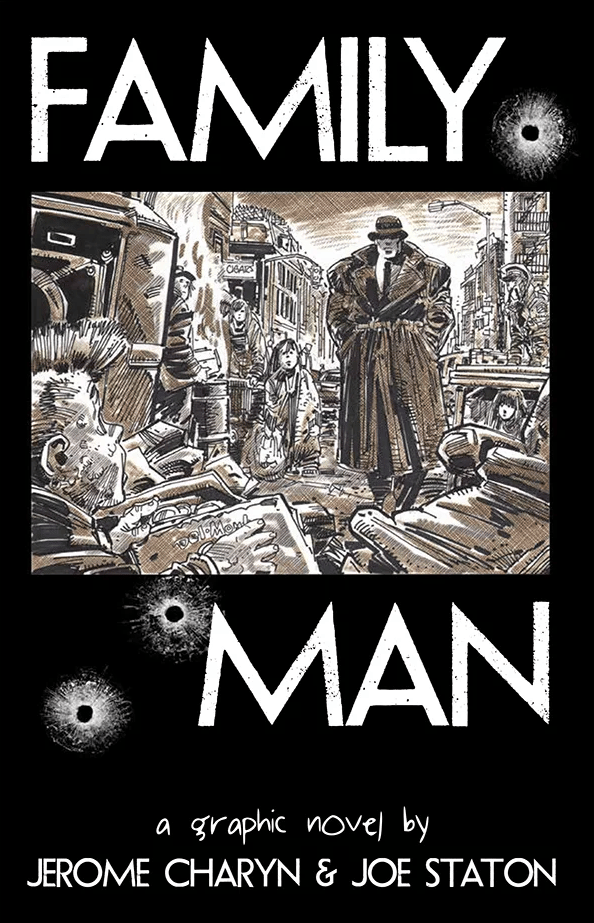 FAMILY MAN signed by Jerome Charyn and Joe Staton
FAMILY MAN is a 288 page graphic novel written by acclaimed crime novelist Jerome Charyn, and illustrated by comic book legend Joe Staton.
Includes tip-in signed by Jerome Charyn and Joe Staton.
The story begins in New York City...one hour into the future. Crime runs rampant, rogue cops patrol the rubble-strewn streets, predatory gangs steal anything that isn't nailed down, and the once powerful mafia dons cower in fear in their tenement prisons. Someone is killing the mob chieftains one by one, and the last survivors call on Alonzo, The Family Man, to hunt down the murderer. But it won't be easy - not when Alonzo's own brother Charles, the gun-toting Monsignor of the corruption-ridden New York City police department, is a prime suspect.
8.25 x 11"
FULL COLOR
288 pages
Hardcover
AVAILABLE NOW! ORDER TODAY!